NEW: Download audio / Listen to yourgreatlifetv on your MP3
[powerpress]
"You can be both: strong and kind" ~ Lori Deschene
I feel really blessed to be able to share Lori's radiance and message today. Lori Deschene is someone I've felt a strong connection with, pretty much as soon as I learned about her. Here's why: her life exemplifies so many of the virtues I admire most in people. She's an incredibly humble, wise, kind and generous human being. As someone who shares from the heart and without a sense of preachiness, Lori's overcome huge psychological and emotional challenges and stands as a selfless example of possibility and hope. Her writing is as vulnerable, heart-open, and genuine as it gets and carries a beautiful depth of purpose and mission. I invite you to let her message in and furthermore, to see yourself reflected in her courageous spirit.
Some key insights from this interview:
Why she chooses to share from the heart rather than as an "expert"
How honesty creates deeper connections
Lori's story and turning point from feeling alone to connecting with people
The freedom that arises from living your truth
The gift of gentle kindness she learned from her grandmother
The biggest lesson she has experienced from the pain of loss
Why freedom is only found in the present moment
The beauty in having an evolutionary purpose
About Lori Deschene – Writer, Transformational Soul, Founder of Tinybuddha.com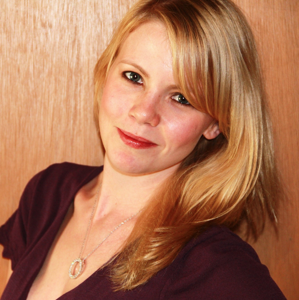 In 2008, Lori Deschene held a full-time web content manager job that felt more like a paycheck than a purpose. Looking to inject meaning into her online activities, Lori began tweeting a daily inspirational quote through @tinybuddha, focusing on ideas that address the universal struggles we all face. This simple daily dose of wisdom quickly attracted a large readership, with over 300,000 followers to date. In the fall of 2009, Lori launched tinybuddha.com as a place where individuals from all over the globe can share stories and lessons about applying those ideas to everyday life.
After years of struggling with low self esteem, discontentment, and a sense of powerlessness, Lori wanted to share her challenges and insights honestly—not as an expert on living wisely, but as someone facilitating conversations that affect our individual and collective peace and happiness.
In an increasingly disconnected, information-overloaded world, Tiny Buddha has emerged as a place for authentic connection—where everyone has the same authority to share what they've learned and how they apply it. As the tagline reads, Tiny Buddha offers "Simple wisdom for complex lives."
Lori is the Author of the Book "Tiny Buddha – Simple Wisdom For Life's Hard Quesions" published by the Conari Press in 2011; she also created an eBook based on her most popular blog posts; launched a Facebook page where over 100,000 friends share their joy and wisdom; and launched a blog coaching business to help other bloggers create meaning online.
Lori attended Emerson College where she studied acting and writing. For the past four years, Lori has written articles for nationally distributed 'tween publications. To date, she's contributed over 100 articles to nationally distributed girls Magazines. Though she speaks to individuals of all ages with her writing, Lori's message remains the same: We have more power than we think; we just have to believe it and use it. Bio adapted from: bonfireheights.com
Connect with Lori:
On her site: tinybuddha.com
On facebook: facebook.com/tinybuddha
On Twitter: @Tinybuddha
On Twitter: @lori_deschene
People & Posts Mentioned in this interview: