NEW: Download audio / Listen to yourgreatlifetv on your MP3
[powerpress]
"You don't know that you're asleep until you're completely woken up" ~Kristine Carlson
On December 13, 2006 a woman who was married to a world renown, best-selling author was expecting a phone call letting her know that her husband had landed safely in NY. Instead, she received a call from an unknown doctor letting her know that the love of her life, Richard Carlson had died suddenly during flight. This life shattering moment would mark a powerful awakening to life & truth for this soulful and courageous mother of two. This woman is Kristine Carlson, and she has not only carried on her late husband's legacy but created a legacy of her own.
Every now and then I have the honor of connecting with a soul who is intimately connected with truth, life, love and everything I hold dear to my heart. Connecting with Kristine has been a true heart opening journey, perhaps because she's someone who's lived so much and so fully. In fact, you could arguet that she's lived more than most while simultaneously opening the path for many people to embrace all of life. I'm completely blown away by the depth of her heart and the incredible courage she's demonstrated through baring her soul completely in her books, programs, interviews and her humble attitude towards life. This interview holds a very special place in my heart and all I can say is that if you enjoy my work, watching this interview is an absolute must. Be willing to go on a heart journey and perhaps gain a new perspective about what life, death, loss, grief and hope can represent in your own life.


Some key insights from this interview:
How sharing from your heart instantly aligns you to be an empowered person
What are some misconceptions and a few privileges of being a best-selling author
How death can breathe new life into you
How opening to ALL emotions allows you to be fully alive today
The practical application of the mantra "surrender, trust and accept"
The authentic and fun way to ride the roller coaster of life
Why resisting grief is ultimately dangerous and backfires every time
How BEING love allows you to tap into more courage than you ever thought possible
What's the beauty of surrendering to the synchronicity of divine order
How serving others & especially those closest to you can transform hopelessness into hope
About Kristine Carlson – Best-Selling Author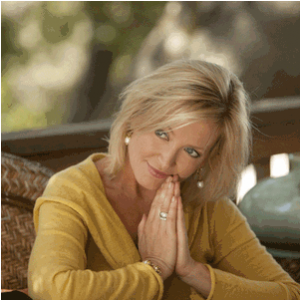 Expanding on the phenomenal success of her late husband Dr. Richard Carlson's work, (Don't Sweat the Small Stuff series), Kristine has continued to share her profound message of empowerment, success, emotional strength and love.
An unyielding believer of living in the moment and finding happiness in life, Kris has been featured on national radio and television broadcasts, including: The Today Show, Empowered Living Radio, The View, and The Oprah Winfrey Show.
A dedicated mother to her two daughters and "Nana" to her two wonderful grandchildren, Kristine prides herself on creating healthy life-long relationships and personal growth. She participates in numerous charities and is deeply committed to spreading her message of love to the world. In 2010 Kris was honored with the Kennedy Laureate Award by John F. Kennedy University. This acknowledgment was also given to Alice Waters and Dr. Sanjay Gupta for their work in the area of mental, physical, spiritual health and well being.


Connect with Kristine:
On her site: KristineCarlson.com
On facebook: facebook.com/pages/Kristine-Carlson/6892822178?ref=ts
On Twitter @KristineCarlson


People & Books Mentioned in this interview: