Download audio / Listen to yourgreatlifetv on your MP3
[powerpress]

"The most beautiful aspect of being a woman is the ease that we have in loving" ~Hemalayaa Behl
An Instant Dose of Sunshine
If you've been paying attention to my teachings over the last eight months (or so) you have noticed a strong shift into the essential flow that allows you as a woman to reconnect with your feminine radiance and light. Well, today I have the honor of sharing with you the heart, wisdom and beautiful radiance of Hemalayaa, a woman of light.
Although I could attempt to describe what she does using the titles, choreographer, dancer, yogini, I would not even be scratching the surface of the depth and inner beauty of this amazing woman. I encourage you to dance your way into her message allowing her words and vibration to move your heart to be more of you.


Some Key Insights From This Interview:
What inspires Hemalayaa most about her work
How her path unfolded naturally through doing what she loves
How to connect more consistently to your own feminine radiance
Why being a strong woman is like being a Queen/li>
What us Hemalayaa's art & practice to balance her masculine and feminine
What is the truth about anxiety
The virtue in screaming and stomping your feet
About Hemalayaa Behl: Yogini, Dancer, Choreographer, Teacher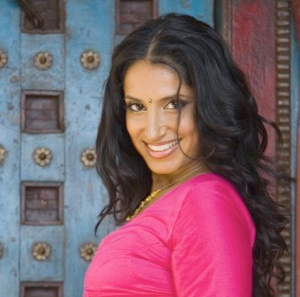 Hemalayaa teaches a unique combination of yoga and Indian dance in Los Angeles and travels the globe transforming lives through these practices. As a yogini, dancer and fitness educator, Hemalayaa has a natural gift for bringing out the joy and the dancer in everyone.
The daughter of Indian parents, Hema's upbringing taught her that dance was important to health and well-being, and her yoga training began at home at an early age. Her first teacher was her father. She went on to study yoga, philosophy, and meditation.
She is the creator and author of numerous health and fitness DVDs and has been featured in publications such as Yoga Journal, Body & Soul, Fit Yoga, The New York Times and LA Yoga Magazine among others.
When she's not shimmying with Ellen Degeneres on her talk show, strutting her stuff with the ladies of the Today show or leading workshops and retreats around the world, Hemalayaa is most likely to be found in her kitchen whipping up some healthy, organic food, riding her bike around Los Angeles, spending time with friends and just generally enjoying life.

Connect With Hemalayaa:
On her site www.Hemalayaa.com
On facebook www.facebook.com/hemalayaafanpage
On Twitter @Hemalayaa
Check out her upcoming Welness Program

Check Out Hemalayaa Showing Ellen How to Bollywood Dance