NEW: Download audio / Listen to yourgreatlifetv on your MP3
[powerpress]
"I am not a lucky person, I'm a blessed person" ~Lovetta Conto
Today is a very special day for me as I share the story of someone who defies all odds and is an example of possibility for humanity. Lovetta's story has touched me most deeply and reminded me of the true resilience of the human spirit. Having had a chance to connect with her and feel the depth of her longing to create a better world and specifically transform Liberia, makes me feel incredibly humbled and inspired. She fled the civil war in Liberia on her father's back, and was saved by nursing women along their three year walk to a refugee camp. She faced hunger and hardships while growing up without a mother and yet was bold enough to become an agent for change and an inspiration for millions (from Angelina Jolie to the Dalai Lama). I really can't think of many people I've connected with who have undergone a bigger transformation than she has.
I invite you to hear her story and reflect back upon your own. I challenge you to realize that you have no excuses to avoid going for your dreams. I ask you for a first time ever favor: help me share this story in as many ways as you can (Twitter, Facebook, email) and if you want to support Lovetta and help many other fellow Strongheart children, please purchase one of her Akawelle pieces.They start as low as $100 (the price of a three course dinner for 2) and 100% of the proceeds allow Strongheart to help more children become a force for good. Irrespective of helping out, this can give you a vivid daily reminder that no matter what you face in life, something beautiful can emerge from it.
I want to give a special thanks to Cori Stern and Zoe Adams for making this interview possible and for daring to change the world one young leader at a time.
Some key insights from this interview:
The biggest challenges she faced while living with 47,000 other refugees
Finding beauty and friendship on a refugee camp
Biggest lesson she learned from her loving father who saved her life
How she's managed to be happy regardless of what she's faced
How Strongheart helped her to "open up to her own self"
The biggest gift from having a private audience with the Dalai Lama
The story of how her Akawlle necklace that's inspired the world came about
Her incredible ride realizing Angelina Jolie and other celebrities wear her piece
The deepest & most immediate way to help the world today without leaving your community
How to be truly rich in life through compassion
Lovetta Conto – Activist, Designer, Advocate, Former Refugee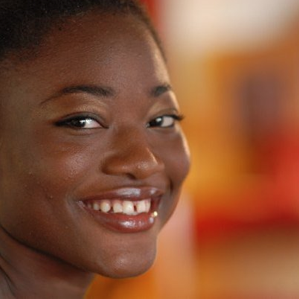 Lovetta Conto Was born in Liberia, West Africa at the time when the civil war was starting. In an attempt to save her life, her father was unable to find Lovetta's mother and carried her out of the country. Over their three year journey to Ghana, Lovetta's dad begged breast feeding women to feed Lovetta and they saved her life. In Ghana, she lived in a Refugee Camp alongside 47,000 other people. Without a mother and with a father who worked extremely hard to support her, Lovetta grew up fast and was not a stranger to hunger, hardship and even a lack of education at times.
At the age of 12 she met Cori Stern, one of the founders of Strongheart, (an organization that provides extraordinary opportunity for exceptional young people from extremely challenging circumstances). A couple of years later she became the first strongheart fellow and moved to America where she went to school and learned many tools and skills to mature emotionally and evolve as a leader. As one of her entrepreneurship assignments at Strongheart she designed a necklace called Akawelle (meaning – as in love) with a small leaf that says "life" and an actual bullet casing next to it from the civil war in Liberia. The purpose of this piece is to signify that something beautiful can emerge from something horrible. One day Angelina Jolie heard about Lovetta and started wearing this piece and then came Hale Barry, Hugh Hackman and a few others.
She's a no-nonsense champion of personal responsibility, exhorting African youth "to be the ones to work hard to build our own countries" in a piece she was invited to contribute by Kerry Kennedy and the Robert F. Kennedy Center for Human Rights to a human rights curriculum for all Liberian school children.
She's become a compelling public speaker in forums including The Aspen Institute, The Texas Governor's Conference for Women, and in schools across the country. She was named a YOUNG HERO by the Global Nomads Group in 2009.
Lovetta became a top finalist in the International Children's Peace Prize 2008, given by KidsRight and The Nobel Peace Prize Winner's Committee. She was also invited to participate in a high-level dialogue for world peace, called the Connecting for Change Conference sponsored by the Dalai Lama Center for Peace and Education. While there, she met in a private audience with His Holiness the Dalai Lama and other world change leaders – and shared her story of survival and resilience with them.
Lovetta's and Strongheart's – remarkable story has been featured in O Magazine, Teen Vogue, and Elle.
Connect with Strongheart:
On their site: Strongheartfellowship.org
On facebook: facebook.com/TheStrongheartGroup
People & Posts Mentioned in this interview: