NEW: Download audio / Listen to yourgreatlifetv on your MP3
[powerpress]
A Hero visits yourgreatlifetv
To say I'm excited to share this interview with you today would be a huge understatement. I first introduced Sean to my blog last July when I posted a video titled "Lessons from a three foot Giant" I then met an incredible soul who happens to be Sean's Fiancee: Mindie Kniss, and  shared an interview with her right here at yourgreatlifetv. I found her to be an incredibly spiritual being who radiates love and kindness in a healing way unlike few people I've ever met. Today I'm humbled and excited to share an interview with Sean, a man whose life is an example of pure possibility. Sean is a soul who has touched millions of people's lives around the world and shattered the limitations about what we can and cannot do with our lives. He is on a mission to rid the world of insecurity by demonstrating through his life and his work that we are way more than the conditions that life has handed on us and that challenges ultimately reveal who we really are inside.
About Sean Stephenson: Inspirational author, speaker & transformational coach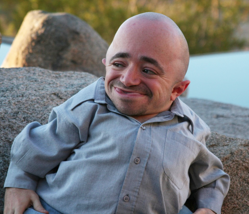 Expected to die at birth, Sean Stephenson has faced a host of reasons to give up and countless opportunities to embrace pity. He suffered more than 200 bone fractures by age eighteen, reached a height of only three feet, and is permanently confined to a wheelchair. Despite his challenges, he took a stand for a quality of life that has inspired millions of people around the world, including Tony Robbins, Richard Branson, President Clinton, and his Holiness the 14th Dalai Lama.
Stephenson has had more life adventures than most people twice his age. He worked on Capitol
Hill for a US Congressman and in the White House alongside President Clinton. He has also testified in front of the United States Senate on two separate occasions, traveled the world as a professional speaker to 11 countries and 47 states, is a board-certified psychotherapist, and recently authored the popular book, Get Off Your BUT: How to End Self-Sabotage and Stand Up for Yourself.
You might have seen Stephenson on his Biography Channel special, 3 Foot Giant, or featured on
Oprah, CNN News, CBS News, WGN News, C-SPAN, the Discovery Health Channel, Jimmy Kimmel Live, or in The Washington Post or The New York Times. With all that said, when you get to know Stephenson you realize all of his struggles and accomplishments are not what define him as a man – rather, it's his love for life and unending pursuit to rid the world of insecurity.
You can connect with Sean: