NEW: Download audio / Listen to yourgreatlifetv on your MP3
[powerpress]
Bodyheart visits yourgreatlifetv:
Most women and a large number of men experience a love-hate relationship with their bodies, loving some parts of it and hating others. The reason I'm so excited to share my friend Amber Krzys, founder of Bodyheart with you, is because her entire mission is liberating women from their body punishment prison. Now, if that isn't powerful I don't know what is.
I invite you to listen to this interview in full with an open mind and allow it's message to help you love your body even more today. I also invite you to check out Amber's Bodyheart campaign below.
What you will take away from this interview:
Learn how Amber turned around her obsession to lose weight into full self acceptance
Why losing weight by itself will never make you feel satisfied with yourself
How to love your body fully today, not someday
The power of gratitude to shift your own body image
Why trying to fit into a body "mold" will leave you filling empty
How to tap into your gift to spread your radiance from the inside out
And much more
The Bodyheart Campaign:
About Amber Krzys, Founder of Bodyheart: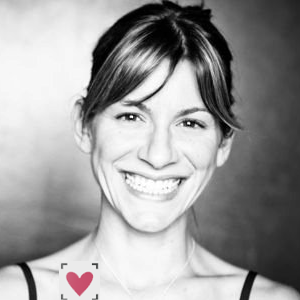 Amber grew up as a dancer/actress and worked professionally on Broadway and in television/film. From the outside her life seemed the dream. However, on the inside she was miserable. Amber was obsessed with being perfect and having the perfect body and tortured herself & her body for years.
In 2008 while completing her Master's Degree program in Spiritual Psychology at the University of Santa Monica, Amber she an epiphany. Amber realized she was in an abusive relationship with herself and I didn't want to live that way anymore. It was here when she overcame her own cycle of body punishment and negative self-image. This changed the course of her life and work and ultimately seeded the creation of bodyheart™.
Amber's mission is to help free people from their self-imprisonment, be that in their relationship with their body, health, partner, or themselves. Amber's philosophy is centered on the premise that by making a change in one area, all parts of your life will be affected and having the willingness and support is key to building the life of your dreams.
Connect with Amber: