Mp3: Download audio / Listen to yourgreatlifetv on your MP3
[powerpress]
"The only way out is in and through" ~Sara Avant Stover
Because of my mission and work, I have the beautiful privilege of connecting daily with many heart-open and soulful women of all walks of life. This is a privilege I don't take for granted and also one for which I'm immensely grateful. After some years of practicing openness, without needing to be a rocket scientist, I've found it increasingly easier to tune in to the deeper truth that shines out from a woman's heart.
Deep down it's always love but on the surface sometimes it manifests itself as pain, as joy, as courage, or sometimes as hurt. For some women this essence manifests as a yearning for freedom and yet for a few others: as a restful and alive "knowing", a rare mixture of truth and love deeply rooted in the experience (not just the concept) of who she really is. Sara easily fits into this last group of women.
I find her to be wise beyond her years and her work as deep, selfless and beautiful as any I've seen. It is because of these reasons that I chose her to end what has been such an amazing year for our show, and I did say "our show" because this show is not mine, it really belongs more to you than to me. We've had some incredibly inspiring guests and I feel beyond grateful to have hosted all of them. I also feel the roaring vibration of what's to come for next year and let me tell you, it is awesome.
Today is no exception to our inspiring lineup, you will find Sara to be a breath of truth, compassion and love and I really can't wait to share her wisdom and presence with all of you. May you always remember to listen to your inner voice and allow it to gently and consciously guide your heart. Here's to a beautiful end to 2012.
All my love,
-Bern
Some key insights from this interview:
The gift disguised as a crisis that completely transformed her life
Why learning to heal herself naturally guided her to write her book
How softness gave her the freedom to experience what it really feels like to be a woman
What's the beauty and wholesome power that results from aligning your soul to the cycles of life
Practical wisdom to recharge your life when aligning to your own cycles
Why the only way out is "in and through"
How to find the kind of joy that is indestructible
What are some principles to align your life with healing instead of disease
An incredibly beautiful and genuine phrasing of her deepest truth
Sara Avant Stover – Yogini, Speaker, Mentor and Best Selling Author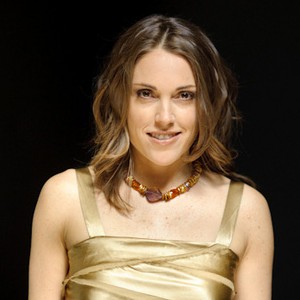 Sara Avant Stover is a yogini, inspirational speaker, teacher, mentor, and author of the best-selling book The Way of the Happy Woman: Living the Best Year of Your Life.
Sara graduated Phi Beta Kappa and summa cum laude from Columbia University's all-women's school, Barnard College. After a cancer scare in her early twenties, Sara moved to Thailand, where she embarked on a decade-long healing and spiritual odyssey throughout Asia. She became a certified yoga instructor, and went on to teach thousands of women in over a dozen countries, from the United Arab Emirates to China and from Greece to Sweden.
Sara is a student of Sofia Diaz, Sarah Powers, and others, and has been practicing yoga, Buddhist meditation, and women's work for fifteen years. She taught the first 200-hour yoga teacher training in Thailand and is the creator of the world's first Women's Yoga Teacher Training. A pioneer in merging modern women's spirituality and lifestyle, she now teaches at centers such as Kripalu and Shambhala Mountain Center. Sara's writing has been published in Yoga Journal, the Huffington Post, and Yogi Times. She has also been featured in Newsweek, Natural Health, and on ABC, NBC, and CBS.
Connect with Sara:
On Her site: saraavantstover.com
On Twitter: @SaraAvantStover
On Facebook: facebook.com/Wayofhappywoman
On Youtube: www.youtube.com/fourmermaids
Books Mentioned in this interview: