NEW: Download audio / Listen to yourgreatlifetv on your MP3
[powerpress]
"Whatever makes you say heck yea, that is following your heart" ~Sylvia Ferrero
What a huge blessing to be able to share the light, the spark, the truth, and the wisdom of my friend Sylvia Ferrero on this show today. She is one of those special human beings who have such a vivid and selfless inner light, that it easily lights up everyone in her path. For a second week in a row I'm left with so few words to express how deeply grateful I am about the extraordinary aura and life force that Sylvia's message expresses. I believe that connecting to the source of energy and gratitude that Sylvia so clearly manifests through her message can cause the biggest shift in awareness and fulfillment that you could ever experience.
Some key insights from this interview:
The #1 most essential key to creating a life of sustainable health
An unexpected gift that transformed her life in an instant & its lesson for you
The beauty of experiencing the deepest pain while realizing the fragility of life
The difference between a midlife crisis and a midlife awakening
What is the significance of taking care of your body to create an amazing life
How the project of revolution bracelets started and what they represent
The two deepest moments that transformed Sylvia's experience of life forever
Why all our hearts are really connected in a meaningful way
Sylvia Ferrero – Fitness Coach, Tri-Fit World Champion & Founder of Revolution Gratitude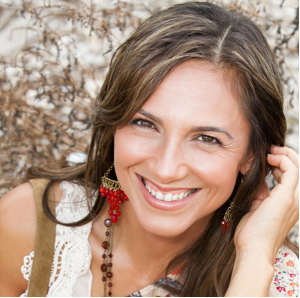 Sylvia is a heart-driven, adventure lovin' fitness gypsy who believes gratitude is the foundation for transforming bodies and lives.
She is a 2X Tri-Fit World Champion, has been a featured cover model and fitness pro for Oxygen and Natural Muscle Magazine, and coach to athletes, TV personalities, top-level executives, entrepreneurs and high-potentials who want to change the world.
As an elite athlete for most of her life, she's learned that the best version of ourselves exists beyond our comfort zone. Her travel adventures throughout the USA, Canada, Uruguay, Argentina, Brazil, Bahamas, Spain, Trinidad/Tobago, Jamaica, Costa Rica and India rekindled her life-long belief that in order to impact the world, we must first learn to cultivate a genuine, heart-felt appreciation for ourselves, those around us, and the circumstances that show up in our lives — as is.
Sylvia has been featured in numerous fitness publications, NBC Miami, WSVN 7 News Fox, ESPN2, Discovery Channel, eHow.com and even as a stunt double for the fabulous Sofia Vergara in a National Lampoon film. She is currently building a movement of gratitude through the site RevolutionGratitude.com
Connect with Sylvia:
On Her sites: Sylviaferrero.com and Revolutiongratitude.com
On Facebook: facebook.com/Revolutiongratitude
On Twitter: @Sylviaferrero
People Mentioned in this Interview
Amber Rae founder of The Bold Academy