Mp3: Download audio / Listen to yourgreatlifetv on your MP3
[powerpress]
"If you don't share your gifts, you lose them" ~Yuladi Saluti
When I first heard Yulady's story I felt an immediate connection with her mission and a great admiration for her depth of giving. I also became intrigued by a woman who is not only gracefully overcoming cancer but who has the guts to show the world what a beautiful shirtless woman looks like after she undergoes a double mastectomy.
I became very interested in talking to her to find out how someone, who as of today, has undergone 21 surgeries, has beat a debilitating colon condition that lasted for years and now breast cancer, is able to shine so much light and love despite having real reasons to be concerned or upset.
I believe that the story I will share with you today is one you will not soon forget. I sincerely hope it reminds you of the unconquerable strength of the human spirit and at the same time allows you to reconsider what you want to spend your time on and continue to give your energy to.
On this thanksgiving day I wanted to share an example of someone who could have chosen to be depressed, sad and worried but instead chose to rise above her condition and has inspired thousands of souls with her resilience and gentle strength.
I'm not going to offer my usual bullet list of all the insights you'll gain by watching this interview but I will say this: watching this will absolutely remind you of what's important in life and will reconnect you with a level of gratitude that only comes when you focus on your blessings.
All my love,
-Bern
Yulady Saluty – Yogi, Cancer Survivor, Mother of 6 and Force For Good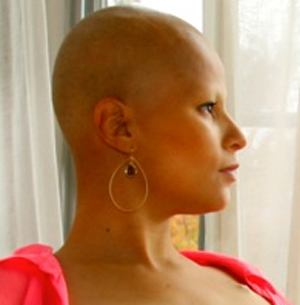 Yulady Saluti never stops moving. She is a Yoga Alliance certified yoga instructor who has appeared in DVDs with Tara Stiles and Deepak Chopra. She has rocked her yoga on television with Sadie Nardini, teaches at four different yoga studios, and is doing all this while taking care of six kids and a devoted husband.
After battling and overcoming a serious colon rectal medical condition, which required she live with a colostomy for four years, Yulady dove head first into a new, healthy life filled with yoga and studies in Ayurveda. It was only three years into her practice (and during her 20th surgery related to her former illness) that her doctors discovered that she had Stage 2 breast cancer at the age of thirty-two.
Yulady is documenting her journey as a mommy-yogi-with-cancer on her Youtube channel. She plans to return to a full teaching schedule after treatment in New Jersey at Powerflow Yoga, Onyx Mind Body, Poe Yoga, and Inferno Hot Yoga.
Connect with Yulady:
On Her site: YuladySaluti.com
On Twitter: @Yogalody
On Facebook: facebook.com/YuladySalutiYoga
On Youtube: www.youtube.com/YuladySaluti
Posts Mentioned in this interview:
Five Things I learned From Cancer