When My Friend Srini (Founder & Host of Blogcast FM), suggested Jaimal as a guest for this show, I became really intrigued by his work & books. Aside from the fact I really respect Srini, I appreciated that Jaimal's work is focused on understanding one of our most primal & misunderstood emotions, Fear. As I learned more about Jaimal read parts of his book, I soon realized he is someone that aside from a big heart also has a very powerful message to share with the world.
Jaimal has a fascinating story, from leaving his home at the age of 16 to find his truth in the waves of Maui, to becoming an author and roaming the world in search for what causes fear and how do we use it to our advantage, he really has something valuable to offer: authenticity and drive. I invite you to watch/listen to this interview and always bring back what he shares to how you can use fear in your life to serve you and grow.
Mp3: Download audio / Listen to yourgreatlifetv on your MP3
[powerpress]
"Even our most monstrous fears are generated by a desire to live" ~Jaimal Yogis
Some key insights from this interview:
Why he left home at 16 and what that experience taught him about fear.
Why Jaimal feels he is a hippie at heart.
What's the beauty in letting go of who you think you are.
His definition of Fear and why we need to revisit our overuse of it.
Why fear makes us rationalize lies.
How meditation helps us distinguish between "paper" and "real" tigers.
How to overcome "Blue Squares" in our lives (something he learned at a neuroscience lab).
Why our basic substance is connected to oceanic love.
Jaimal Yogis – Journalist, Surfer, Author of Saltwater Buddha & The Fear Project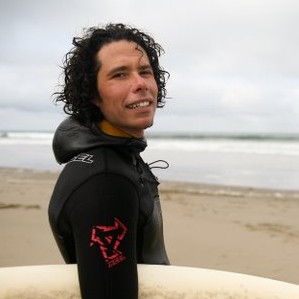 Jaimal Yogis is an author, journalist, and outdoors-man. His first book, a coming-of-age memoir called Saltwater Buddha, was praised by The Times of London, The Age, Publishers Weekly, The San Francisco Chronicle, and is currently being made into a film.
Jaimal's second book, The Fear Project, is a personal and journalistic investigation into our most primal emotion. To report the story, Jaimal plunged into the water with great white sharks, surfed waves as tall as four-story buildings, visted some of the world's most cutting edge neuroscience labs, and interviewed some of the top extreme athletes and psychologists.
A graduate of Columbia Journalism School, Jaimal's magazine reporting has won awards like the 2005 Leslie Rachel Sanders Award for Social Justice Reporting, a 2007 Maggie Award for "Best Magazine Feature," and two Scripps Howard reporting scholarships. In 2010, The Common Wealth Club voted him "The New Face of San Francisco Media" for his popular writing in San Francisco Magazine, thebolditalic.com, and The San Francisco Chronicle. His stories have also been published in ESPN Magazine, AFAR, Runner's World, The Surfers Journal, The Washington Post, The Chicago Tribune, and many others. He has been a guest-lecturer at UC Berkeley, Columbia University, and San Francisco State.
Jaimal lives in San Francisco with his wife, Amy, and his son, Kai.
Connect with Jaimal:
On His site: Jaimalyogis.com
On His site: FearProject.net
On Twitter: @jaimalyogis
Check Out The Fear Project's Trailer & Book (Amazon) :