NEW: Download audio / Listen to yourgreatlifetv on your MP3
[powerpress]
"When you're inauthentic long enough, eventually you start living a lie" ~Srinivas Rao
I have the honor today to share the insight and wisdom of a true friend, Srinivas Rao. Srini has been one of the most supportive people of my work going back to the time I started my site. He has a rare combination of generosity, humility, friendship and knowledge that are not easy to come by. On his show (BlogcastFM) he's interviewed some of the most successful bloggers and content creators in the world and has also picked up an insane amount of life lessons that he openly shares through his interviews and his posts on his other site theskooloflife.com. I have a good feeling that you will connect with his story, his quest for truth and freedom, and his love for life and surfing.
Some key insights from this interview:
Why the conventional road is often a path to an unfulfilled life
Some unexpected and awesome rewards from following his calling
The vital importance of being in the moment in surfing and in life
How to surround yourself with incredibly inspiring people no matter where you live
The biggest insight that took his show to over 70,000 downloads per month
The power of supportive people who light a fire under you
The dangerous pitfalls of pleasing people
About Srinivas Rao – Host & Co-Founder of Blogcast FM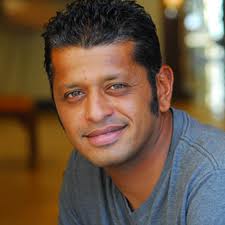 Srinivas Rao (aka "Srini") is the host and co-founder of BlogcastFM, the entrepreneur's podcast where he shares proven strategies to grow a business by conducting one-on-one interviews with some of the best minds online and off. He started his blog, The Skool of Life, in April of 2009 where he shares valuable insights, ideas and real-life lessons that are usually not taught in school. His writing has been featured on a number of popular personal development and social media blogs such as Dumb Little Man, Problogger, and several others. He's a regular contributor at the Adage 150 blog GROW, has spoken at BlogWorld and was recognized on Problogger's annual list as one of 40 Bloggers to Watch in 2011. When he's not talking with amazing people, he's riding waves.
Connect with Srini:
On his show: Blogcastfm.com
On his blog: TheSkoolOfLife.com
On facebook: facebook.com/blogcastfm
On Twitter: @skooloflife
On Twitter: @blogcastfm
People Mentioned in this interview: