NEW: Download audio / Listen to yourgreatlifetv on your MP3
[powerpress]

"When you have faith, you have the strength" ~Consolee Nishimwe
Tested To The Limit
Every once in a while I hear about someone who seems to defy all odds and displays a heroic ability to choose love, life, forgiveness and hope despite having multiple reasons not to. As a matter of fact, the very first thing that got me interested in devoting my life to searching and finding truth (decades ago) was the recognition of people like Consolee Nishimwe. Throughout my life I've always been fascinated as to how and why certain people can rise up to any challenge however painful it is, while others have a surplus of reasons to be fulfilled beyond their wildest dreams and still manage to live a half-lived life.
To say I admire the courage and resilience of my friend Consolee would be a huge understatement. Here is a woman who at the young age of 14 had to run for her life and who had her father, aunt and three brothers brutally murdered only to find herself in a situation where as she fought for her life, was also raped and physically tortured. When you think about her example as a genocide survivor, activist, author and force for good it kind of puts things in perspective and allows you to find the courage within your own heart to forgive, love more deeply and commit even more devotionally to the service of others.
I'm incredibly grateful to have had the opportunity to connect with and tap into Consolee's wisdom and invite you to open your heart to her message and story.


Some Key Insights From This Interview:
The day Consolee's life was forever changed
Finding strength in a deep moment of darkness
What allowed Consolee to find safety even when she did not want to live
The moment that allowed Consolee to forgive the murderer of her three brothers
What is the significance of finding faith in your life
What are Consolee's dreams and hopes
About Consolee Nishimwe: Genocide Survivor, Activist and Author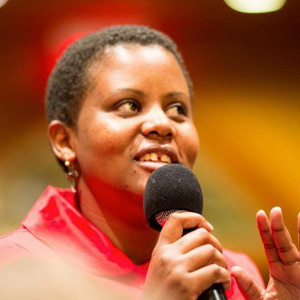 Consolee Nishimwe is a survivor of the 1994 Rwandan genocide against Tutsis. She suffered physical torture and rape during her three months in hiding and miraculously survived with her mother and younger sister. She is a committed speaker on the genocide, a defender of global women's rights, and an advocate for other genocide survivors.
Consolee is the author of the Book "Tested To The Limit" A Genocide Survivor's Story of Pain, Resilience, and Hope. This book is a riveting and courageous account from the perspective of a 14-year-old girl. She now lives in New York City.



Connect With Consolee:
On her site www.Consolee.com
On facebook www.facebook.com/Tested-to-the-limit
On Twitter @nconsolee

Check Out Her Book
Tested To The Limit" A Genocide Survivor's Story of Pain, Resilience, and Hope.